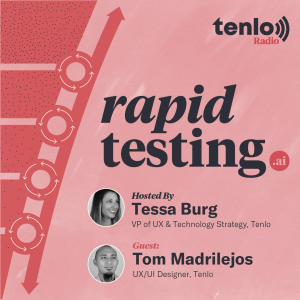 Monday Jan 13, 2020
Why & How to Use Rapid Testing in Marketing
In today's episode, we'll learn the "whys" and "hows" of rapid testing. Today's guest, Tom Madrilejos, has been executing Rapid Testing at Tenlo for the past year across a variety of marketing tactics. Marketers will hear examples of how to launch a new product or test a new marketing tactic and get rich customer insights and predictable results without overspending.
About Tessa's Guest:
Tom's vast knowledge of creative immersive technology and UX/UI guides his creative thinking. His knowledge-hungry attitude drives him to apply the most advanced ideas and solutions to creative strategies. Currently, Tom is a staple of the Planning & Strategy team for Tenlo Marketing. Using his past experience in UX, Tom is able to combine creative and strategy to create unique solutions to client's marketing challenges.