Leader Generation
Guest: Tom Madrilejos
Episodes
Monday Nov 20, 2023
Monday Nov 20, 2023
Join Tessa Burg and Tom Madrilejos as they share their enthusiasm for AI on this episode of the Leader Generation podcast. Tune in for an interesting discussion about the potential of AI and machine learning and their impact on marketing and communications.
Explore the landscape of AI adoption, ranging from novices to experts. Gain insights into the common concerns plaguing colleagues and clients, including plagiarism, data leaks, IP issues, and AI's sustainability in content marketing and SEO.
Uncover key pillars of successful AI integration in marketing: transparency, communication, and risk management. Discover how to drive innovation within your organization by establishing an AI Council complete with cross-functional teams.
Don't miss this engaging conversation that sheds light on the future of marketing with AI. Stay tuned for upcoming episodes covering AI, marketing channels, measurement, risk management, and more.
Leader Generation is hosted by Tessa Burg and brought to you by Mod Op.
Related episodes:
https://tenloradio.com/e/how-to-drive-business-growth-with-an-ai-council/
https://tenloradio.com/e/unscripted-bonus-episode-on-ai-machine-learning/ 
About Tom Madrilejos:
Tom Madrilejos is an accomplished Associate Director of Audience Strategy with a proven track record of driving digital marketing success. With a wealth of experience, he leads alongside client teams in developing cutting-edge digital marketing and go-to-market strategies. Tom specializes in harnessing the power of AI and machine learning to optimize marketing campaigns, enhance customer engagement and achieve superior results. His passion for innovation and commitment to delivering exceptional value make him a vital asset in digital marketing.
 
About Tessa Burg:
Tessa Burg is the Chief Technology Officer and Host of the Leader Generation podcast at Mod Op. She's been leading data-driven marketing and technology teams for 15+ years on both the agency and client sides of the business for domestic and international brands, including American Greetings, Amazon, Nestlé, Anlene, Moen and many more. Tessa has deep skills in data and tech architecture, software product development and management, digital transformation and strategy. As CTO, she oversees Mod Op's technology stack to ensure the agency is leveraging and securing the right platforms and data to deliver valuable and measurable results across physical, digital and virtual experiences. Tessa can be reached on LinkedIn or at [email protected].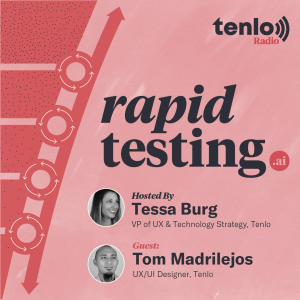 Monday Jan 13, 2020
Monday Jan 13, 2020

 
In today's episode, we'll learn the "whys" and "hows" of rapid testing. Today's guest, Tom Madrilejos, has been executing Rapid Testing at Tenlo for the past year across a variety of marketing tactics. Marketers will hear examples of how to launch a new product or test a new marketing tactic and get rich customer insights and predictable results without overspending.