Leader Generation
Guest: Mat Segal
Episodes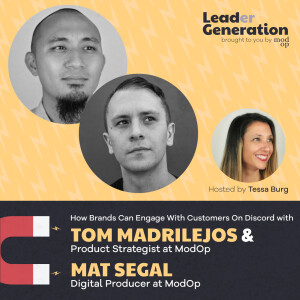 Tuesday Jan 10, 2023
Tuesday Jan 10, 2023
Discord offers an excellent opportunity for companies to build a strong community of followers. How can brands engage with their customers on this social platform? 
Digital Producer Mat Segal and Product Strategist Tom Madrilejos from Mod Op share some tips on how brands can maximize the potential of Discord. Listen to this episode to hear about the following topics and more:
What is Discord
How do people use it
What drives Discord's popularity
Community management on Discord
How brands can add value on the platform
Identifying and engaging "super users"
The role of Discord among niche social platforms
Key takeaways for brands evaluating Discord
This episode of the Leader Generation Podcast is hosted by Tessa Burg, Chief Technology Officer at Mod Op.
About Tessa Burg:
Tessa Burg is Host of the Leader Generation podcast and Chief Technology Officer at Mod Op after its acquisition of Tenlo in 2022. In her previous role as Vice President of Technology, she helped clients execute engaging, multi-platform experiences and products to bring their brands to life. In her role as CTO, Tessa oversees Mod Op's technology stack to ensure the agency is leveraging the right platforms to deliver valuable and measurable marketing communications, entertainment and experiences.