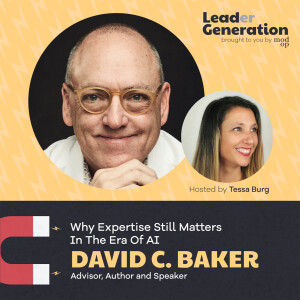 Tuesday Sep 12, 2023
Why Expertise Still Matters In The Era Of AI
In this episode, we dive into the evolving landscape of technology. The discussion centers on the value of expertise and the important role marketers continue to play in an age dominated by artificial intelligence and machine learning. 
You'll gain insights into the unique qualities that humans bring to the table, setting them apart from the algorithms and data-driven systems. Discover who is poised to thrive in this AI-infused world as we explore the traits and strategies that will help individuals leverage their expertise to effectively stand out.
AI isn't a magical switch that can be flipped on; it requires humans to unlock its full potential. Tune in to learn how to navigate this exciting era where expertise and AI become a powerful combination.
Leader Generation is hosted by Tessa Burg and brought to you by Mod Op. For feedback and marketing questions for future episodes, message Tessa on LinkedIn.
About David C. Baker:
David C. Baker is an Advisor, Author and Speaker. He owned a marketing communications firm for six years. He then started a management consulting firm and became the leading authority on positioning, reinventing and selling firms in the creative and digital space.
David is the author of five books, three of which focus on the central elements of the business of expertise: positioning, financial management and leadership. He also speaks regularly on more than 70 topics relevant to entrepreneurial expertise and appears as a guest on podcasts every month.
About Tessa Burg:
Tessa Burg is the Chief Technology Officer and Host of the Leader Generation podcast at Mod Op. She's been leading data-driven marketing and technology teams for 15+ years on both the agency and client sides of the business for domestic and international brands, including American Greetings, Amazon, Nestlé, Anlene, Moen and many more. Tessa has deep skills in data and tech architecture, software product development and management, digital transformation and strategy. As CTO, she oversees Mod Op's technology stack to ensure the agency is leveraging and securing the right platforms and data to deliver valuable and measurable results across physical, digital and virtual experiences.