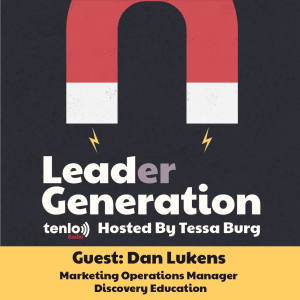 Monday Jul 05, 2021
Why B2B Leaders Need Marketing Operations
People, process, data and technology all play critical roles in B2B lead generation. But how well is your managing and optimizing performance in these areas?
Dan Lukens explains how a Marketing Operations Manager adds value to an organization by keeping these functions focused on marketing and sales strategy. Plus, adapting them to changing conditions so your marketing is most effective.
About Dan Lukens:
Dan Lukens is the Marketing Operations Manager at Discovery Education. He draws from 10+ years of digital marketing experience as well as working closely with sales leaders and platforms.
In his role, Dan bridges the gap between marketing and sales. He's in charge of putting the right people, processes data, and technology in place. When balanced, they vastly improve the performance of both the marketing and sales teams. It also allows them to become the collaborative revenue-generating engine they're meant to be.