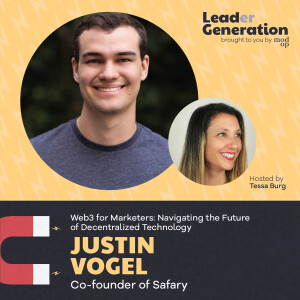 Tuesday Feb 07, 2023
Web3 for Marketers: Navigating the Future of Decentralized Technology
In this episode, Justin Vogel and Tessa Burg provide a comprehensive overview of Web3 technology and its impact on the marketing industry. 
They start by defining Web3 and explaining the difference between Web2 and Web3. They then delve into how marketers can use Web3 to connect with more customers and create new experiences for them. You'll also hear tips for getting started with Web3. This includes how to use low-visibility experiences to test the technology.
Justin and Tessa also cover topics such as marketing attribution for Web3, the data that can be gathered with this technology, and the importance of privacy in the decentralized world. They end with insights into untapped opportunities for marketers and brands. Plus, offer recommendations for where to learn more about Web3. 
Overall, this episode is a must-listen for marketers looking to stay ahead of the curve in the rapidly evolving world of decentralized technology.
About Justin Vogel:
Justin Vogel is the Co-founder of Safary, a community-first company rebuilding the marketing stack in Web3 starting with attribution. Web3 teams use the Safary platform to understand their customer acquisition cost (CAC), channel return on investment (ROI) and customer lifetime value (LTV). The community consists of the top web3 growth leaders who exchange insights and work together to reverse-engineer Web3 growth tactics seen in the wild. 
About Tessa Burg:
Tessa Burg is Host of the Leader Generation podcast and Chief Technology Officer at Mod Op after its acquisition of Tenlo in 2022. In her previous role as Vice President of Technology, she helped clients execute engaging, multi-platform experiences and products to bring their brands to life. In her role as CTO, Tessa oversees Mod Op's technology stack to ensure the agency is leveraging the right platforms to deliver valuable and measurable marketing communications, entertainment and experiences.