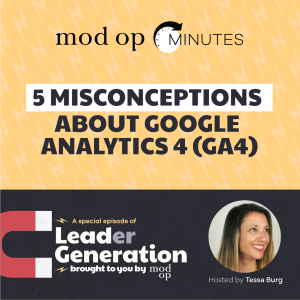 Tuesday Oct 11, 2022
5 Misconceptions About Google Analytics 4 (GA4)
In July of 2023, GA4 will replace Universal Analytics. The shift to has left marketers with more questions than answers. Plus, plenty of misconceptions. 
In under six minutes, Tessa Burg quickly hits on five common myths about GA4. She then delivers the truths as well as some tips on how to make the most of the new GA4 platform.
About Tessa Burg:
Tessa Burg is Host of the Leader Generation podcast and Chief Technology Officer at Mod Op, a full-service marketing communications agency focused on using the right methods to help clients capitalize on their opportunities. Originally part of Tenlo, Tessa became part of the Mod Op team in 2022 after Mod Op's acquisition of the company. 
In her previous role as vice president of technology, she helped clients execute engaging, multi-platform experiences and products to bring their brands to life. Moving into her role as CTO, she'll oversee Mod Op's technology stack to ensure the agency is leveraging the right platforms to deliver valuable and measurable marketing communications, entertainment and experiences.